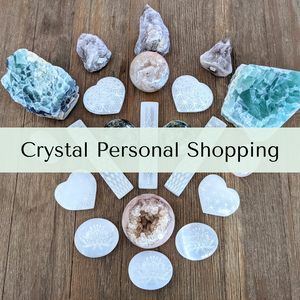 The Salty Blossom
Crystal Zoom Appointment
Regular price
$15.00
$0.00
Unit price
per
A zoom with Danielle to look at All The Crystals and receive guidance on what you may be looking for.
This is perfect for someone who:
Wants to purchase some crystals but doesn't know where to start.
Is looking for crystals to help with a specific issue and is unsure how to choose.
Wants to see all of the cool crystals and receive Danielle's recommendations!
What to expect:
Danielle will email you after receiving your order to set up a time for a zoom conversation. You can email Danielle any intentions or ideas that you are hoping to find crystals for. During the zoom, Danielle will share a variety of crystals. Danielle will send a follow-up email with a document listing the crystals that you were interested in. This gives you time to make your decision about purchasing. When you are ready, reach out to Danielle and she will facilitate the purchasing process for you.
The fee of the zoom will be directly applied to any order you place with Danielle afterwards.
---