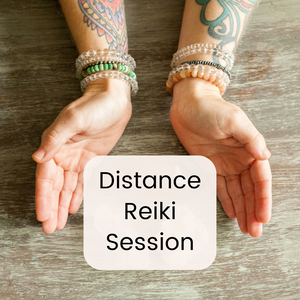 The Salty Blossom
Distance Reiki Session
Regular price
$75.00
$0.00
Unit price
per
Reiki is a healing technique, originating in Japan, that promotes the flow of energy through the body. Reiki is based on the belief that there is a life force energy that runs through all of us. If that energy becomes stuck or stagnant, then illness can result.

Illness, or disease (dis-ease), can manifest in the physical, emotional, or spiritual body. Reiki restores the natural flow of energy in all areas of the body. This is the first step of healing.
A Reiki session feels very relaxing and peaceful. It is a natural healing technique that is safe for anyone.
I specialize in distance Reiki sessions, which means that I can send Reiki to you from any location and at any time. When I work with Reiki, I will also open your Akashic Records (with your permission) to amplify the healing energy.
Before a session: We will connect via phone or zoom. We will talk about setting an intention for the session and I can answer any questions that you have.
During a session: At the determined time, you will lay down and relax. You could choose to watch TV, read a book, or lay down to sleep. Any option in which you are relaxed will work!
After a session: After a session, we will discuss details about the experience from my perspective. Again, you will have an opportunity to ask questions or give information about the experience.
Read more FAQs.
*Disclaimer: This service is not in an way - explicit, implicit, by implication, or in reference – to be a substitute or replacement for licensed medical care. In addition, the information and techniques on this site do not constitute medical advice.
---